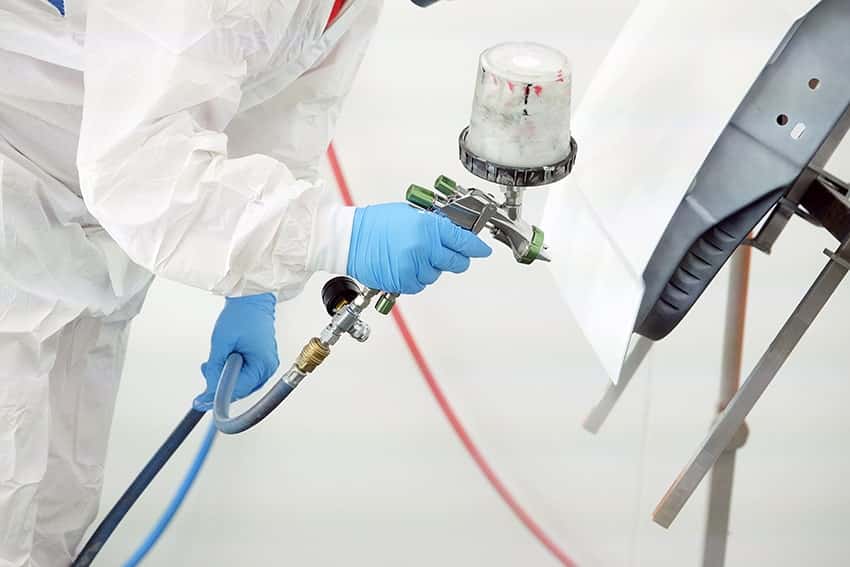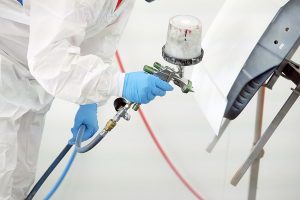 No good paint job would be complete without a nice thick layer of clear coat. By using a layer of polyurethane, or some other water-resistant material, you can greatly increase the service life of any wooden object. Of course, it can be hard to get that perfectly smooth finish that you want.
That's where a spray gun comes into the picture. By using one of these, you can ensure that the clear coat is never touched by a brush (or anything else). Thus, it is far easier to get a smooth coating. With that in mind, let's look at our top five choices for the best clear coat spray guns.
Best Clear Coat Spray Guns in May, 2021
This is a very attractive and ergonomic spray gun that falls in the upper-middle part of our price range. Still, it's not a particularly expensive item, so the cost is a very small problem.
Very Pleasant To Use
Everything about this gun is comfortable, from the rubberized grip with the deep ridges to the smooth and even pull of the trigger. Some paint guns tend to give you either too much pressure or too little, and it can be hard to find the right balance. This gun makes it easy.
I also like the fact that this gun gives us very precise control over pressure, paint flow, and all other aspects of its performance. It's a lot easier to do precise work with this one, and the lack of a rubber O-ring makes it compatible with a wider range of substances. Ordinarily, some of the chemicals and solvents that are present in certain paints will pose a hazard to rubber parts. With this gun, you don't really need to worry about that.
Potential Leakage Issues
Based on the reviews that I have read, these spray guns seem to have some leakage issues. Although most of the reviews have been positive, the bad reviews have consistently spoken of leaky parts. I found at least five reviewers who said that this gun leaked paint, air, or both. I can't help but wonder if it has something to do with the lack of any rubber seal. By trying to make a spray gun that was compatible with harsher solvents, the manufacturer may have sacrificed too much.
Pros
Large paint cup (1 liter)
Very smooth trigger
No rubber O-ring
Comfortable grip
Very precise control
Cons
May suffer from leaking issues
A little bit expensive
This is a top-of-the-line spray gun from a highly respected manufacturer, so you couldn't ask for higher quality. All in all, reviews for this product are overwhelmingly positive.
Built To Last
This seems to be a very durable spray gun (as far as I can tell). First, I really like the fact that all its metal surfaces are anodized. This means that you aren't just working with bare steel, which will rust quickly. An anodized steel surface is covered in a thick oxide layer that cannot oxidize any further. By using metal oxides that do not corrode the metal, the manufacturer avoids any potential issues with rust.
Speaking of metal, every part of this gun seems to be made of metal. I don't see any fragile plastic parts, so this gun is likely to last a lot longer without repair. Although any spray gun will eventually need repair, this one should last much longer than others.
Enhanced Atomization And Other Features
All of the spray guns on today's list are HVLP guns, which stands for "high volume, low pressure." As the name signifies, these guns spit out a lot of paint at a relatively low velocity. This type of gun is usually preferred for its ability to provide a smooth finish. An HVLP gun does this by mixing paint with air at a certain ratio.
This particular model is made for enhanced atomization, which is a fancy way of saying that it creates a finer spray with smaller paint droplets. In theory, this should provide a smoother finish with fewer visible droplets. Of course, it also might cause clogging when you use thicker paints.
A Few Little Problems
Apart from the obvious issue of its high cost, some have also complained about the paint cup. Advertisements show a metal cup, but several customers say that they received a fragile plastic cup, which quickly broke.
Pros
Enhanced atomization feature
All metal surfaces are anodized
Comes with three different tips and a gauge
Durable all-metal design
Visually appealing
Cons
Some have reported problems with the paint cup
Most expensive on our list
As you might guess from the heading, this gun is a cheap and minimalistic model that gives you only what is necessary. The frame of the gun itself is very thin, and we can't help but we concerned with all the plastic parts, but this is also one of the cheapest guns on our list. That low price buys a lot of forgiveness for its flaws.
Easy To Use
With such a light and small spray gun, you won't have to worry about your arms getting tired. That probably won't be a concern for this gun anyway, since it is best suited for small jobs. I wouldn't recommend this gun to a professional who needs to use it for 5-8 hours a day, but I would recommend it to the hobbyist who wants basic functionality at a very reasonable price.
I really like the precise pressure control that is offered by this model. While some guns go from weak to super-strong with a tiny flick of the knob, this one gives you a nice, even progression from weak to strong. That makes it a lot easier to dial in the power level that you need for a certain job.
Use Of Different Tips/Nozzles
This gun can be purchased with 5 different nozzle sizes, which is a very convenient thing. However, the extra tips that convert one size to another are very expensive. They cost more than half the cost of the gun itself, so they aren't a very cost-effective solution. Thus, you will sacrifice a little bit of versatility when you choose this model.
Tested With Clear Coat
I was able to find several reviewers who tested this model with water-based polyurethane (the most common type of clear coat), and they found it to be quite adequate for the job. Some reviewers were concerned that the standard 1.3mm tip wouldn't be able to handle the poly, but they reported no major problems.
Pros
Very lightweight
Available in 5 different nozzle sizes
Very inexpensive
Very good pressure control
Works well with water-based polyurethane
Cons
Extra tips are too expensive
Low durability factor
Fairly small paint cup
While my previous choice was a lightweight a minimalistic one, the Astro takes this concept to another level. This is one of the cheapest gun on our list (although number four is only a few dollars more) but it doesn't look like a cheap toy.
Light But Strong
This definitely isn't the most durable spray gun on the list, but it isn't the weakest by a long shot. While the other cheap model had a large number of plastic parts, this one appears to be made entirely of metal. While this is not a guarantee of durability, it definitely gives the buyer more confidence in the product. Of course, it may have non-metal components inside, but all of its external parts look pretty tough.
A Great Starter Gun
For those who have never tried using a spray gun before, this might be a great introductory tool. It's the kind of product that is perfectly suited for the novice. Apart from its low cost, this thing is very simple and easy to use. It has only one tip size and only two adjustment knobs, so this is as simple as it gets. Its lighter weight and ergonomic grip will also make it a favorite among new users. I compare this thing to a mosquito because it is so ridiculously light. It's quite easy to forget that you are holding this gun if you aren't mindful.
Not Suited For Advanced Spray Gun Users
If you are a little more serious about what you are doing, and you want a gun that reflects that, this model isn't the one for you. As I said, it's a simple and stripped-down model that sacrifices some of the perks in exchange for low cost and ease of use. This gun isn't the best choice for large jobs because its cup only holds 600ml of paint at one time.
Pros
No external plastic parts
Very cheap when compared to most others
Does a great job of controlling overspray
Extremely light
Great for beginners
Cons
Not suited for large jobs
Only one nozzle size
This is the bottom of the barrel in terms of price, but its quality seems to be fairly good. At this kind of price, you can't really complain too much about the small flaws. This one receives mostly positive reviews, so I tend to think that it's a decent solution for those who need a spray gun at a low cost.
Good For Big Jobs
There are some questions as to whether this little aluminum tool can survive the rigors of professional work, but it's definitely good enough to handle most other work. It has a large-capacity aluminum cup that holds up to one liter, which makes it well-suited for big jobs that require coating a large surface area. I also noticed that the trigger seems very easy to hold once it has been fully depressed. This makes it easier to maintain a constant spray, adding another little benefit to this surprisingly effective tool.
Seems Pretty Trustworthy
In most cases, people tend to be suspicious of super-cheap items. I am no different, but this product seems to deliver what it promises. You won't be getting a top-notch spray gun by any standard, but you should get something that will work for you. It's good to see that the product is backed up by a one-year warranty, as this shows a company that stands behind its craftsmanship. Although its construction isn't the world's most durable, it does at least avoid the use of external plastic parts.
The Downsides
The main problem I see here is the grip. The blocky, squarish handle makes this gun uncomfortable when used for more than a few minutes. Some users have also reported issues with air leakage, so bear that in mind before you buy this model. You won't be getting anything fancy, and you will need to use it with greater care.
Pros
High-capacity metal cup
Cheapest spray gun on our list
1-year warranty
Meant for use with clear coat
Cons
Uncomfortable grip
Some reported leakage issues
Frequently Asked Questions
Can you spray clear coat for metal over old clear coat?
That probably isn't a good idea. The whole point of a clear coat is to provide a sacrificial layer. It's a lot easier to replace a clear coat than it is to replace the metal itself, so it is well worth using. However, when that old clear coat starts to chip, crack, and peel, you need to remove every bit. Otherwise, the old finish will continue to peel and will take your new finish along for the ride.
How many layers of clear coat for metal should I apply?
There is no universal answer to this question, as it will depend on the situation. If you are coating something that will remain indoors, 1-2 coats should be good enough. For something that is going to sit outside all the time, 3-4 coats would be better. You should also consider the viscosity (thickness) of your clear coat. If you are working with a thick and gummy product, you will definitely need to apply fewer layers because each of those layers will be thicker.
Does clear coat for metal make paint shiny?
Clear coat usually does make your paint look shinier. However, it depends on which type of clear coat product you choose. Some of them are advertised as "gloss" coatings, and those tend to be a lot shinier. However, even the low-gloss options will provide some sheen. This is because a smooth surface will always reflect light more than a rough one. In the end, it is just a question of degree.
How do I make my clear coat for metal shiny?
As we said before, it's all about picking the right product. If you want to get maximum sheen, you should go with a product that promises a high-gloss finish. If that isn't quite good enough for you, a buffer can be used to make it even smoother. Some people also use low-grit sandpaper and water to get a hand-polished look. Finally, you might want to consider the use of a rubbing compound.
Conclusion
When we look at these spray guns, it is tempting to choose one of them as the best. However, every buyer will have different needs and a different budget, so the question isn't that simple. All of these spray guns seem to be well-regarded among those who have purchased them, so none of them should be a total failure. However, many problems can happen when you choose the wrong tool for the job. I hope that I have helped you to be a more informed consumer, and that you can now make a better-informed decision about your next spray gun.