Top pick
Best Primer for Rusted Metal
If you want to get rid of rust then Corroseal Rust Converter is just for you. It's water-based formula is very versatile and non-flammable.
Check Price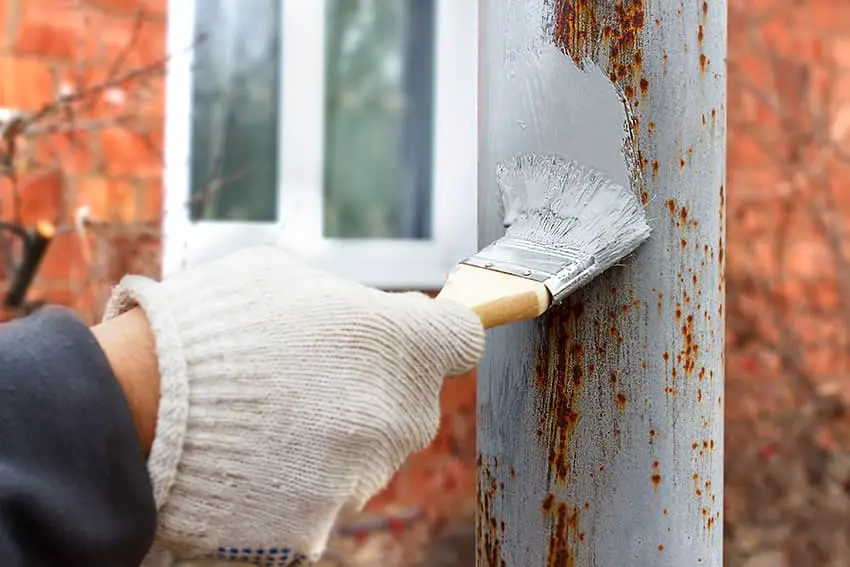 Rust is the enemy of metal, so we must protect against corrosion. For better or worse, there's no shortage of products that claim to help out. Some products are for general use, others are specialized—the question is which works best for your intended application.
You can end up with less protection and even more work if you use the wrong treatment. In this article, we'll review a selection of top rust protectants, and what to look for when choosing one for your project.
Best Primers for Rusted Metal in May, 2021
Corroseal is an industrial-strength, water-based metal primer for marine, residential and commercial use that converts rust to the stable material, magnetite.
The popular primer is not corrosive or flammable, and applies quickly by spraying or with a brush or roller. The water-based compound cleans up easily with just soap and water too. It comes in quart or 5-gallon sizes.
 Industrial-strength
This primer was created for commercial use in marine applications, to combat rust in one of the harshest and most corrosive environments for metal. It was developed to eliminate the expense and labor involved in sandblasting—the traditional method of industrial corrosion removal.
Corroseal uses a chemical process that converts rust into magnetite, a stable black substance which can be primed and painted safely.
It's an industrial-strength treatment you can use at home.
Corroseal is a heavy-duty, one-step treatment recommended for tough jobs on heavily-rusted metal. The finished look may vary according to the state of the metal, and it only works on existing rust … but the product lets you skip extensive preparation, and its water-based composition cleans up easily.
Pros
Versatile
Converts rust and primes metal with one coat
Non-flammable and non-corrosive
Water-based for easy cleanup
Cons
Pricey
Some chemical smell
Difficult to clean from hands
This product offers an economical way to turn rusted metal into a stable, paintable surface. The primer uses a phosphoric acid compound to convert corrosion and prepare metal surfaces for paint or primer.
It can be used on new metal for high paint adhesion too. It coats with a water-thin film that covers over 500 sq ft per gallon, and is available in either quart or gallon sizes.
Removes and protects against rust
TotalBoat is made to both neutralize existing metal corrosion and prevent further oxidation. It converts corroded surfaces to iron phosphate, which doesn't rust, creating a stable surface that can be primed and painted.
The primer applies with a thin coat and dries to a residue, which you wipe off with a cloth or light pad before applying a further coat of paint or primer.
TotalBoat is recommended where economy is important and you don't mind a little extra cleanup.
Essentially this is a phosphoric wash that quickly removes surface rust. The product contains acid, but dilutes with water for fast cleanup. It's not recommended for use in a sprayer, but it can be used on either rusty or new metal.
Pros
Versatile
Easy to use
Little prep needed
Economical
Cons
Thin viscosity can drip off
Stains fabric and concrete
Needs post-treatment cleaning
FDC converter ULTRA tackles rust by converting it to an inert coating, so it can be used without sandblasting or other prep methods.
It can be used on boats and other marine-exposed metal surfaces, and also on cars, tools and outdoor structures. The product is ready to use without thinning, and can be sprayed on or applied with a brush or roller.
Automotive use
This converter was originally formulated for automotive use. It is meant to be applied as a primer, so you will need to paint the surface afterward to get the best and most long-lasting result.
The product creates a hard, tough surface after curing, and it's water-based for easier application and clean-up.
In spite of the name, Rust Converter ULTRA, there are more rigorous options available. It's important to mix well before using, and make sure you let the surface dry completely. Treated metal surfaces will turn white if they get wet before fully curing.
This converter is effective and recommended for use on automobiles.
It's also a good choice for residential use because it has few fumes and is not highly corrosive on exposed skin. Just remember to keep it dry while it cures.
Pros
Versatile
Good for automotive use
Economical
Cleans up with water
Cons
Stains fabric and concrete
Not highly effective on deep rust
This product for heavily corroded metal solves the problem a bit differently than rust conversion products. The enamel primer bonds to rust rather than converting it to an inert substance.
Though this primer requires a topcoat after drying—and needs more preparation than acidic products—it provides good protection and looks good too. It's also easy on the wallet.
Do preparation
There are a few caveats to know about. It is important to prepare the surface by cleaning off loose rust flakes, but without going down to bare metal. (Use a clean metal primer for those jobs.) The primer dries to an attractive brown color, and makes a stable undercoat for painting. A final topcoat is suggested for protection.
Be aware an overly-thick coat can peel over time, so just make a second coat if needed. You can use the spray version for convenience when covering small areas.
Rust-Oleum is a well-regarded brand and can be recommended for most residential projects.
Though it requires more preparation before and after to look its best, it's easy to apply and dries to a nice brown color. In addition, the primer is economical, widely-available, and comes with an established brand's support.
Pros
Rust-bonding action
Strong protection with overcoat
Easy to apply
Economical
Cons
Requires preparation and finishing work
This versatile protectant is meant for priming clean surfaces that have no existing rust. It sprays on and dries quickly—within 15 minutes—to a smooth, textured matte finish.
Though the primer adheres best to metal, it can be used over plastic too. It's widely available and comes in many colors.
It's hard to beat the convenience of this spray primer, but it does have one area of potential trouble. A so-called 360-degree cap directs and contains the spray. Some users report it as missing, and others seem to have missed its importance and end up with primer-soaked hands and clothes, a spattered floor and a streaky, bubble-flecked surface that needs to be redone. So be aware you must use the 360-degree cap to avoid a headache.
Handy option
This fast-drying primer is handy for smaller projects and general home use, though it can't be recommended for industrial applications that need maximum bonding and durability.
You need a clean surface to start with, and a top coat for protection, but the many colors make it great for matching décor. Just make sure you use the cap correctly.
Pros
Fast-drying resistance
Wide selection of colors
Economical for small projects
Can be used on plastic and paint
Cons
Messy application for some, even with 360-degree cap
Requires rust-free, clean surface and topcoat
Provides light protection
Buyer's Guide
Rust happens. There are many products that can protect your metal equipment, but there are significant differences in the formulation and methods. Some treatments bond to the rust, others convert it to an inert substance—but the goal is to form a stable substrate that resists further corrosion.
The good news is that newer rust "converter" treatments can save you days of wire brushing and sanding. These solutions can be applied directly over rust—in fact, these converters actually need rusted metal to perform. Because of the differences in how different metal protectors work, it's important to do your homework and find the right treatment for your project.
The following are important features to look at when deciding upon a rust treatment.
Purpose: Treatment or Protection?
Heavy rust responds to heavy-duty converter products, but new metal only needs a protective coating. Lightly-rusted equipment does well with a bonded or converted base layer and top coat of paint. Since rust treatments are not interchangeable, take stock of your metal's condition and intended use.
Effectiveness/Durability
Of course you want a durable solution, but there are levels here too. A quick protective spray may be sufficient for rust-free years of service from new metal chairs on your patio, but would wear quickly on a hot automobile undercarriage. More intense treatments entail more effort and precaution, so you want to match your project's usage to its treatment.
Appearance
Be aware that some products dry to a smooth, attractive color and texture that can be left exposed, while others need a top coat. For example, a heavy rust converter can often be left exposed after drying–but may also leave color variations due to uneven corrosion. If you plan to paint the rust-treated metal, make sure to get a primer product that matches your intent.
Prep work & Finishing
Check out how much surface preparation is needed before picking your treatment product. Some conversion or bonding treatments only need cleaning and removal of rust flakes before using, while others require a clean surface to adhere to.
Also consider the finishing work, if any. Some products need an additional coat, which might be overkill for your project. Be sure the effort needed to complete the job is worthwhile.
Frequently Asked Questions
How do you treat rusted metal before painting?
As you probably know, it is necessary to remove everything from a metal surface before you begin painting. This is especially true when you are talking about rusted metal. Rust will prevent the paint from adhering properly and will result in flaking and chipping before long.
There are basically two ways to remove all that rust: Mechanically, chemically, or a mixture of the two. Mechanical removal can be done with sandpaper, steel wool, or any number of other abrasives. We would recommend sanding the small areas by hand and using a rotary tool for the larger areas. Sandblasting is another good option.
The chemical method will usually involve some sort of acid. You can use a ready-made product that is labeled for this purpose, but that is a little expensive. Common vinegar can be a great way to remove rust, as can pool acid. Swimming pool acid (which is basically just dilute hydrochloric acid) should be watered down before use and should never be used without rubber gloves and good breathing protection.
Can I use rubbing alcohol to clean metal before painting?
Rubbing alcohol is indeed one of the chemicals that can be used to clean metal, but it won't do much good when used alone. Alcohol will not remove the rust, although it might loosen it from the surface a little. Thus, you could use it as a pre-treatment to make mechanical removal a little bit easier.
Alcohol does a good job of dissolving oily substances, so it works great for that. As such, it's also great for a final wipedown. After all the rust has been removed, you can wet a cloth with rubbing alcohol (91% is best) to remove any oils or residues that might remain.
What is a rust-inhibiting primer?
If you have ever seen a "rust-inhibiting" primer on the shelves of your local hardware store, you might have wondered how it works. If you look at the ingredients of these products, you will see that they all contain zinc-based additives. The zinc is basically a sacrificial ingredient, as it is meant to oxidize itself. This keeps it from oxidizing the metal underneath the finish. A rust-inhibiting primer is a great way to protect your work.
Does rust come through primer?
In some cases, rust can seep through the primer and discolor its' surface. This normally happens because someone failed to remove all the rust before adding the primer. It is a particularly large issue when painting wrought iron, as iron tends to oxidize much more quickly than steel.
This mainly happens because rust (iron oxide) is a strong pigment. Have you ever wondered why bricks are usually red? It's because iron oxide is added to the mix. There are many red and orange pigments that use iron oxide as an ingredient, so make sure you remove every bit.
Conclusion
Rust treatment is a serious consideration if you value your metal equipment. In 2016, the National Association of Corrosion Engineers (NACE) released an economic impact study that estimated the cost of corrosion to be US$2.5 trillion worldwide. The good news is that so much economic incentive has created a host of rust treatments.
Not every treatment is equally effective for all projects, and we've outlined a framework for finding the right one. With a little forethought and research, you can restore and protect your metal equipment safely and effectively. Rust may win in the end, but with some attention and effort, it doesn't have to happen anytime soon.